Warship HMS Northumberland home after pirate patrols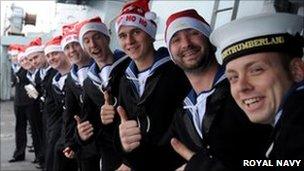 Hundreds of friends and family members have welcomed home the crew of a Devon-based warship.
HMS Northumberland has spent the past eight months on counter-piracy patrols in the Middle East.
Since deploying in April, the Type 23 frigate has covered 49,624 nautical miles - the equivalent of sailing twice around the world.
Commanding officer, Cdr Paddy Allen, said the "fantastic" welcome home was a fitting end to a very long tour.
He said while the ship's company deserved the welcome back, it was the families and partners who were the "unsung heroes".
"Families and friends are the silent support network," Cdr Allen said.
"They keep things going at home and keep the problems away from us on board so it does not distract us from our duty."
The Royal Navy said piracy attacks had "significantly reduced" since HMS Northumberland and her task group were deployed.
The Devonport ship also took part in anti-arms, anti-people smuggling and counter-terrorism patrols.
The ship spent most of the deployment in the Gulf of Aden and Oman and the Somali Basin in support of Operation Calash, part of a multi-national maritime task force.
The crew will be on leave over the Christmas period.
HMS Northumberland is due to visit her affiliate county next year and is also due for a major upgrade in Devonport.
Related Internet Links
The BBC is not responsible for the content of external sites.