Volunteer bikers transport donor breast milk for NHS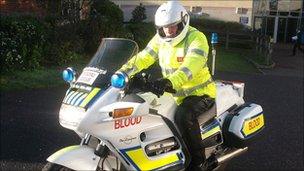 A South West motorcycle charity has started carrying urgent donor breast milk to neonatal units for premature babies.
Devon Freewheelers already transports emergency blood stocks across Devon and Cornwall for the NHS.
The group of 19 volunteers, which provides an out-of hours service, was first set up in 2008.
Previously the NHS had to use taxis and air ambulances to provide 24-hour cover, costing it thousands of pounds.
Similar services to Devon Freewheelers have operated elsewhere in the country for many years, but not in the South West.
Daniel Lavery founded Devon Freewheelers after his wife went into premature labour and needed a blood transfusion.
"I thought I'd offer my support, but when I made some inquiries I discovered there was nothing there - no cover at all for Devon and Cornwall," Mr Lavery said.
Karen Read, the infant feeding coordinator from the Royal Devon and Exeter Hospital's neonatal unit, said the service provided by Devon Freewheelers was vital.
"Donor breast milk is essential to ensure these tiny babies get the optimum nutrition to grow and for their immune systems in the very early days when they're very vulnerable to infection," she told BBC News.
Breast milk donor Michelle Halsey said it was good to help mothers with premature babies.
"I produce a lot of milk... but I can see on the unit how many mums are really struggling," she said.
"It's quite nice to be able to help."
Related Internet Links
The BBC is not responsible for the content of external sites.