Devon soldier survives human shield shooting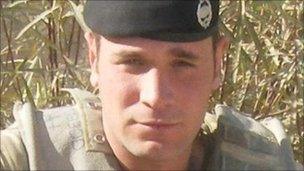 A soldier who faced an Afghan insurgent who was using a child as a human shield has survived being shot after not firing in case he injured the girl.
Lance Corporal Craig Murfitt, 25, from Barnstaple, Devon, was saved by his helmet, which stopped a bullet during a confrontation in Helmand province.
He was with Tidworth-based 2nd Royal Tank Regiment when he was called to reinforce infantry colleagues.
The father of one, who was uninjured, returned to duty after the attack.
The rifleman and medic had been on a routine security patrol when a group of soldiers came under fire from hidden Taliban insurgents and required immediate back-up, he said.
After a firefight, L/Cpl Murfitt said he spotted three men with a child on a roof about 300yds (275m) away.
He said: "Suddenly two of the men moved off, leaving one man with the child. It was a girl, no more than 10 years old.
"At this point I realised something was wrong. The man picked up a rifle and moved behind the child, taking aim at me.
"So I waited, hoping that the child would drop down and give me a clear shot."
He then watched the sniper take aim and pull the trigger for a shot which threw him to the ground.
The bullet struck him on the left hand side of his Mark 7 Combat Helmet.
He said: "I felt the dent in my helmet and said to the others, 'I've been shot in the head but I'm fine'.
"I tried to stand up but I had disco legs and just had to sit down again for a bit."
It is unclear what happened to the girl involved after the incident.
He added: "I knew I could take him down but, being a dad myself, I didn't want to run the risk of killing a kid and undoing all the good work we've achieved."
L/Cpl Murfitt will return to his wife and son, who is less than a year old, when his tour ends next year.
Related Internet Links
The BBC is not responsible for the content of external sites.