Street pastors in Torbay drive to 'trouble spots'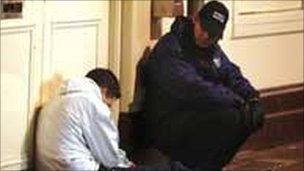 Street pastors in south Devon have begun new patrols using a car to enable them to cover larger areas.
The Christian organisation patrols three town centres in Torbay on weekend nights offering help to people who need it.
Volunteers usually travel on foot, but the loan of a vehicle from Safer Communities Torbay means they can now reach "trouble spots" quickly.
Torbay is made up of the resort towns of Torquay, Paignton and Brixham.
Ros Ede, who co-ordinates Torbay Street Pastors', said: "The team can now cover so much more ground.
"We're thrilled, it's working really well."
She said the new vehicle was particularly useful for covering Brixham town centre.
"We are mostly seeing the same young people time and time again," Ms Ede said.
"They know who we are now, we've had some really positive engagements."
Street pastors work alongside the police and Safer Communities organisation in Torbay.
They offer practical help and emotional support to people, including handing out water, free flip flops and hypothermia blankets.
There are now 73 street pastors in Torbay, with others currently in training to begin operating in Newton Abbot.
Related Internet Links
The BBC is not responsible for the content of external sites.