Santa's Christmas ship visit ends in slip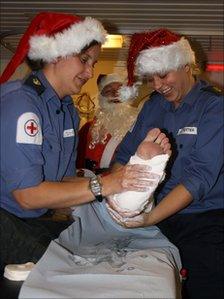 Santa Claus ended up in sick bay during his annual visit to the Devon-based ice-patrol ship HMS Scott after he slipped on deck and broke his ankle.
The ocean survey ship is currently on deployment in the South Atlantic after setting sail from Plymouth in November.
Santa, who was played by Petty Officer Jim Stevenson, was visiting the ship to deliver presents.
A third of the 78-strong crew are hoping to return to the UK in time for Christmas, weather permitting.
The remainder of the crew will be spending Christmas in Cape Town, where the ship is currently in port, a Navy spokesman said.
Lieutenant Commander Phillip Newell, acting commanding officer, said: "It is always difficult being away from friends and loved ones during the festive period.
"However, Cape Town provides a fantastic back-drop for a much needed rest period before continuing south."
Related Internet Links
The BBC is not responsible for the content of external sites.