Exeter hospital urges people to wear flat shoes on ice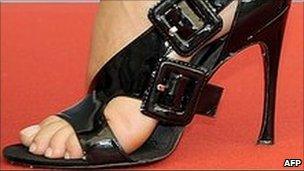 A Devon hospital is advising people to wear flat shoes during the icy weather and only make "necessary journeys".
The Royal Devon and Exeter Hospital (RD&E) said 300 people were treated at its emergency department on Thursday, many with broken bones.
It advised people to wear flat shoes when walking, rather than heels.
Elaine Hobson, chief operating officer at the hospital said people of all ages should "be cautious" when venturing outside.
She added: "If you can avoid going out in high heels, wear flats to get wherever you're going and then put your heels on.
"Lots of fit and active people who are going about their usual business at Christmas are suffering some severe effects from the ice that's still around.
"People will want to be out having a lovely time, but I think the consequence of a fall and a fracture means that they may well be out of action for six or eight weeks or more."
She also said if a family member was ill over Christmas it was advisable to access support in the community from pharmacists or GPs.
"Our department is extremely busy if you can possible access information or care elsewhere then seek that first."
Related Internet Links
The BBC is not responsible for the content of external sites.