Devon farm completes deliveries in snow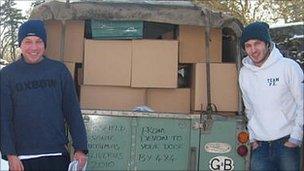 A Devon organic farm has completed its deliveries by travelling the length and breadth of England by Land Rover.
Couriers told Eversfield Organic, at Bratton Clovelly, near Okehampton, that snow meant they could not guarantee deliveries in time for Christmas.
So boss Mark Bury, fearing his firm would be made bankrupt, asked his son and a friend to make deliveries.
A delivery to Exmouth in Devon on Christmas Eve completed about 95 deliveries around the country.
The Christmas deliveries, which include turkeys, geese and gammon, were made by Mr Bury's 20-year-old son Hamish and family friend Henry Authors, 21, in two Land Rovers.
The pair made all the deliveries except for Scotland by driving thousands of miles and working through the night as far away as Hull.
Mr Bury's daughter Anna, 22, who packed the deliveries of Christmas food such as turkey, gammon and salmon, said: "There have been a few stressful times with punctures, but everyone is relieved that customers got their boxes.
"It's actually been really nice to meet customers, because there are some we have had for years, but never met.
"Now we can relax and enjoy Christmas."
Related Internet Links
The BBC is not responsible for the content of external sites.