Devon roads gritting cut as supplies dwindle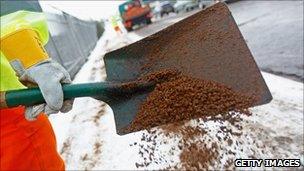 Minor roads in Devon will not be gritted after Boxing Day in an attempt to conserve supplies.
The county council says it has 9,000 tonnes of salt and grit left after using 15,000 tonnes this winter.
Severe weather means that it has spread about three times the amount it used over the same period in 2009.
About 1,700 miles of A and B roads will be gritted compared with 2,000 miles previously.
It said the change should make supplies last until the end of January when another 8,000 tonnes are expected.
Councillor Stuart Hughes, Devon County Council Cabinet Member for Highways and Transportation, said the plan would be reviewed if extreme weather returned.
He said: "The ongoing freezing temperatures are taking their toll on salt resources, and although we are relatively well off compared to some authorities our salt stocks will not last forever.
"We must be prepared for the possibility of these conditions continuing, and while we appreciate these are testing times for everyone, we will only be able to treat the main routes in the county and simply won't be able to attend to minor roads and estates."
Related Internet Links
The BBC is not responsible for the content of external sites.