Restoration for the 'silent' bells of a Devon church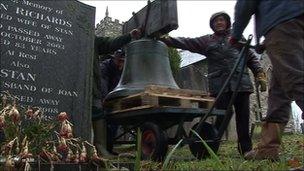 The bells of a church in north Devon which have not been rung for more than 30 years are being restored.
Villagers in Brayford raised more than £35,000 towards the work at All Saints church, High Bray.
Each of the six bells, two of which are thought to date from the 15th Century, has been removed and sent away to a foundry for repair.
The project is expected to be completed by Easter.
The Reverend Peter Attwood, priest-in-charge, said: "The bells have been silent for nearly 30 years and it marks a project between the village and the church.
"It's really caught people's imagination."
He said the church was believed to have two of the oldest bells in the country, one dated 1415 and the other 1492.
As well as the money raised by the villagers, the church also received £20,000 from the Heritage Lottery Fund.
Related Internet Links
The BBC is not responsible for the content of external sites.