Cheap rents in expensive village of East Portlemouth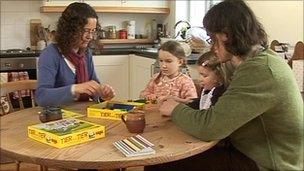 Six families in one of Devon's most expensive villages are about to spend their first new year in their subsidised homes.
The affordable housing scheme at East Portlemouth was officially opened by Isobel Waterhouse on 12 December.
Miss Waterhouse donated the land and created a charitable trust to build six houses for rent for local people.
She said it was "wonderful" to see families living in the village where she has lived since she was a child.
The scheme at Baker's Piece was devised in 2009 after Miss Waterhouse became concerned about the lack of affordable housing for local people.
Seventy per cent of homes in East Portlemouth, nestled in the South Hams on the edge of the Salcombe estuary, are second homes, according to the parish council.
The high demand for homes means that many people from the area, where average wages are about £18,000 a year, cannot afford to live locally.
Until this year, boat builder John McShea had to travel 45 minutes from Totnes to get to his business in East Portlemouth.
He and his wife Naomi and their two children are among the first tenants in the homes at Baker's Piece, which are rented at less than the market value.
He said: "We feel very lucky.
"We wouldn't be able to live in a place like this in any other way. It would not be possible."
Miss Waterhouse said: "To have young families living here and children running around is wonderful."
Related Internet Links
The BBC is not responsible for the content of external sites.