South West Water works to repair 'unprecedented' bursts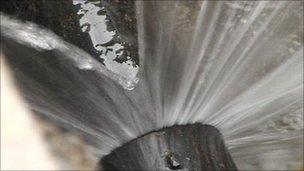 Nearly 200 burst mains and pipes have been repaired by engineers since Boxing Day, South West Water (SWW) has said.
The company brought in extra staff to cope with the calls for help from customers.
It said there had been an unprecedented surge in burst mains since the thaw, but all but a handful have now been repaired.
There are 14 major bursts outstanding across Devon and Cornwall and only 18 customers with no water, the firm said.
On Tuesday the company was dealing with 74 suspected major bursts or leaks and nearly 200 calls from customers reporting no water or low pressure.
In total, SWW said staff had dealt with around 190 suspected bursts and leaks on the mains network since Boxing Day.
Drinking water services manager Mark Baker said it had been an extremely busy time and he wanted to thank customers for their patience and for alerting the company to leaks and bursts.
He paid tribute to the "valiant efforts" of staff, many of whom had worked extra hours or cancelled holidays to help.
"We believe that we are over the worst and business is now returning to normal," he said.
Meanwhile, in Northern Ireland there are still more than 30,000 customers who have been without running water for several days.
Last week's thaw, which followed the worst snow in the country for 25 years, resulted in burst mains across many parts of Northern Ireland.
Related Internet Links
The BBC is not responsible for the content of external sites.