Derelict Sidmouth hotel 'very dangerous' for fire crews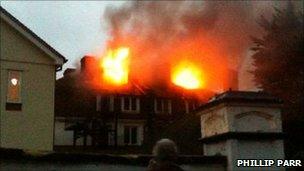 A derelict hotel in Devon which was damaged in a fire was known to the emergency services as a potential fire risk, it has emerged.
At its height, up to 80 firefighters fought to control the blaze at the four-storey Fortfield Hotel near Sidmouth seafront on Thursday.
Crews could only fight the fire from outside the building because of missing floorboards and other safety concerns.
The hotel's owner said measures had been in place to prevent intruders.
No-one was injured and the cause of the fire is being investigated.
A number of nearby buildings were evacuated, but crews prevented the fire from spreading and residents were allowed to return to their homes later.
Devon and Somerset Fire and Rescue Service said the hotel was known as a potential fire risk.
Fire officer Adge Tilk told BBC News: "It's been empty for a number of years and unfortunately local youths and other people have been getting in and making use of it, causing concerns to us and the local police quite some time."
Contingency plans on how to fight a fire were already in place.
Despite those plans, Mr Tilk said when the call came in he had "very, very grave concerns" about what firefighters would be confronted with.
"The whole structure of the building is not the same as what it was or what it was intended to be when it operated as a hotel.
"There was the potential for very quick fire spread and it was a very dangerous situation for firefighters.
"The minute you walked in the door you found floorboards that were missing and there were voids."
Peter Sullivan, the chairman of Sidmouth Town Council told BBC News the hotel has been a magnet for misbehaviour and vandalism.
"People were squatting in there, children were playing in there... and some people have been saying 'we knew this would happen eventually'," he said.
In the summer, the fire service raised some of its concerns with hotel owner Andrew Torjussen and bedding and other upholstered furniture were removed.
Two applications to redevelop the hotel have been rejected by East Devon District Council planners, Mr Sullivan said.
Mr Torjussen said he was shocked at what happened, but that the measures had been in place to stop trespassers.
However, he added: "Of course people will always breach security if they want to get into a place and that's been a problem here.
"I don't think a fire like that could have started without someone getting in."
Mr Torjussen said there had been a number of attempts develop the site over last five years and that he hoped to make an application for a new development in new year.
The Esplanade and roads near Fortfield Place remain closed.
Related Internet Links
The BBC is not responsible for the content of external sites.