Anger over Exeter's 'mounting rubbish risks'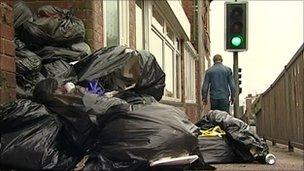 Mounds of rubbish blocking alleyways and streets in a Devon city have led to complaints about rats and health hazards.
Angry residents in Exeter say they may have to wait for up to a month for bin collections.
Some local councillors have admitted the situation in the city is unacceptable.
The city council said the recent wintry weather had caused the delay to refuse collections.
It said the low temperatures should have slowed down decomposition and minimised the odour from rubbish.
But residents claim bags of rubbish are being ripped apart by animals adding to the smell and increasing the risk of vermin.
The council said snow and ice halted refuse services for two days last month, but although collections had resumed on 22 December, some waste and recycling had been delayed.
Rob Hannaford, councillor for environment and leisure, said it had been a difficult period and the council's priority had to be safety.
"We have already had a number of casualties with our workforce slipping on icy surfaces, with one breaking an ankle and the other a finger."
The council said it was putting on extra crews, but it has urged residents to recycle or compost as much as possible.
However, local councillor James Taghdissian said collecting rubbish was one of the most basic services and a statutory function.
"If we can't go out a get rubbish picked up... we're clearly not an excellent council," he said.
Related Internet Links
The BBC is not responsible for the content of external sites.