Extra waste crews 'to tackle Exeter rubbish backlogs'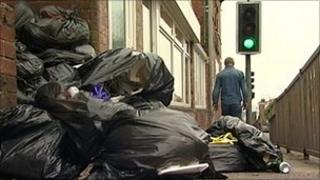 Exeter Council is to bring in extra resources to tackle rubbish backlogs caused by recent snow and public holidays, the city's lord mayor says.
Angry residents said they were concerned they may have to wait for up to a month for bin collections.
Mounds of rubbish blocking alleyways and streets have led to complaints about rats and possible health hazards.
Mayor Marcel Choules said he was told the cleansing department was to bring in extra staff to clean up the city.
'All out'
The Labour-majority council had said the low temperatures should have slowed down decomposition and minimised the odour from rubbish.
But residents have claimed bags of rubbish were being ripped apart by animals, adding to the smell and increasing the risk of vermin.
The council said snow and ice halted refuse services for two days last month, but although collections had resumed on 22 December, some waste and recycling had been delayed.
Mr Choules said: "The city council's cleansing department has said that it will be all hands on deck on Wednesday and there will be extra crews.
"Obviously with the bank holiday the collections will be one or two days later, but I'm sure that they will keep to their word and they will go all out to clean up the city."