Devon cob cottage partially collapses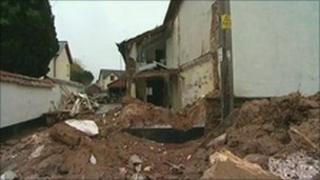 A cottage in east Devon has partly collapsed.
A clear-up operation is under way after a section at the rear of the two-storey building in Rockbeare fell into the road at about 0650 GMT.
Nobody in the cob-constructed property was injured. Fire crews from Exeter isolated power to the building.
Workmen have been clearing rubble and making the structure safe. The cause of the collapse is not yet known, the fire service said.
Construction materials in cob buildings include mud, straw and earth.