Plymouth yacht builders Princess start biggest boat yet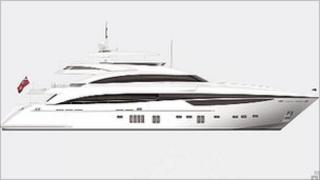 Princess Yachts has started building its biggest ever motor yacht in Plymouth.
The £12m, 40m (130ft) boat is being built at the firm's new South Yard premises, the firm has confirmed.
The facilities will enable the company to produce 50m (164ft) vessels, securing about 1,800 jobs.
South Yard will be developed over the next five years at a cost of £45m to include a five-storey high, 300,000 sq ft production hangar.
Simon Clare, head of marketing at Princess, said: "We have started building the second of our 32m yachts at South Yard and we have started on the 40m, so it's exciting times for Princess.
"The amount of work that has gone into the new boat from everyone in Plymouth, the skill and the passion that the team have had, has been magnificent.
"We are lucky to have such great people who are so passionate about what they do."