People 'brought U-turn on Devon parking meters'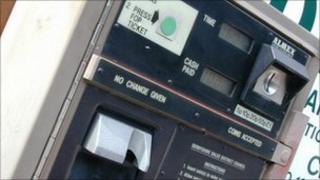 "People power" killed plans for parking meters says a north Devon business leader.
Devon County Council proposed on-street parking restrictions in 10 towns, including Honiton and Kingsbridge.
But the plans have been dropped after the council received about 4,400 objections to the proposals.
Colin Wright, chairman of Honiton Chamber of Commerce, said: "It was the power of people that changed this. We are delighted."
Mr Wright said parking meters in Honiton would have forced people into out-of-town supermarkets.
He said: "People come in from villages around Honiton to shop and they can park for an hour for free.
"The current system works fine, the traffic is moving.
"Parking meters would have been a kick in the teeth."
Peter Betteridge, chairman of the tourism association in Kingsbridge, said: "In rural areas you have to have a car. It is not a luxury.
"This plan was treating motorists as a soft target for money raising.
"It was the last thing Kingsbridge needed.
"Shopping should be an enjoyable experience, not under the eye of steely-faced enforcement officers.
"If you discourage people from using high streets they will go to out-of-town superstores."
Professional survey
Okehampton, Budleigh Salterton, Sidmouth, Dartmouth, Braunton and Tavistock, Lynton and Lynmouth were the other towns that would have been affected.
Councillor Stuart Hughes, Devon County Council cabinet member for transport, announced the change at a public meeting in Kingsbridge.
He has offered the towns a professional survey of traffic management by a council engineer.
But it will be left to local people to decide if they wanted meters.
He said: "Rather than pay and display, we are going to look at the requirements of each town.
"I am a very good listener, it's important to listen to people's views and that's what I have done.
"You could claim that the opponents have won the day, but it is a bit on both sides."