Plymouth girl's attacker 'sadistic and evil'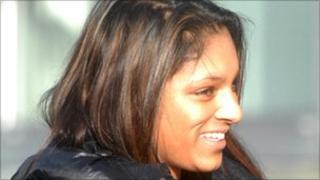 The leader of a girl gang who burned a teenager with a cigarette and stamped on her face has been described as "sadistic" by a judge.
Judge Francis Gilbert QC told 16-year-old Sabrina Barber he had never seen such a "sustained and savage assault".
Her victim, Naomi Morrison, 17, was attacked by 10 girls for 90 minutes on Plymouth Hoe in December 2009.
Barber, from Plymouth, admitted causing grievous bodily harm with intent and was detained for five years.
'Savage assault'
Her co-accused, 19-year-old Melissa Rowe, also from Plymouth, was given a 10-month sentence, suspended for two years.
The gang of girls attacked their victim who was falsely accused by one of them of lying about a miscarriage.
Jo Martin, prosecuting at Plymouth Crown Court, said: "Barber toyed with her victim, humiliating, degrading and assaulting her."
She said Barber told Miss Morrison to lie down and "threatened to kill her and stood on her face".
Miss Morrison, a trainee nursery nurse, was made to butt a metal bench "for the pleasure of the crew around her".
Rowe was then said to have kicked their victim between the legs.
The court heard Barber was high on the drug mephedrone, which has since been banned.
Her victim had eye-liner poured into her eyes and was grabbed around the neck and throttled.
Police later found a text sent by one of the girls which read: "Beens mashed up a girl. Lots of laughs. It was wonderful".
Judge Gilbert told Barber: "This was an extreme level of sadistic violence carried out for your pleasure and no other reason."
He added: "You subjected a 17-year-old girl to a sustained and savage assault the severity of which I have never seen from someone of your age.
"The level of sadistic violence you displayed was appalling and evil and left physical and psychological damage over a prolonged period of time."
Following the case, Miss Morrison said: "I'm relieved it is all over and she has been locked up.
"I hate her even more now than ever. I can never escape what happened to me."
Speaking to BBC Spotlight, she said: "I don't want anybody else going through what I went through.
"I want to warn people what gang attacks are like."
The judge lifted an order preventing the identification of Barber. Rowe was also ordered to complete 200 hours of work in the community.