Devon bypass from Newton Abbot to Torquay moves closer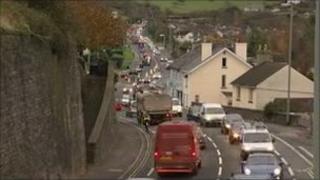 Plans for a long-awaited south Devon bypass have moved a step closer.
The £130m bypass between Newton Abbot and Torquay has got through to the 'pool' stage, said the government.
The bypass, first proposed more than 50 years ago, will now join more than 20 projects competing for a share of £630m funding.
Devon County Council will also get £10.4m towards £14.4m improvements to the M5 east of Exeter after the council shaved £1.5m from the cost.
The south Devon bypass was left out of government road plans in 2010, but has been given fresh hope after Torbay Council and Devon County Council raised their share of funding from £12.5m to £33m.
They also cut the total cost by 16m, saying the bypass was essential for the economy of the area.
But the Department of Transport warned that the councils will have to shave more off the total cost to stand a "good chance" of government funding.
It said in a statement: "The department hopes to fund the majority of the schemes now in the development pool subject to their business cases being of an acceptable standard.
"However, the total likely funding request to DfT is nearly £950m, so the process remains competitive and local authorities will need to look for further savings to stand a good chance of funding."
'Life changing'
Devon County Council leader John Hart said: "We are delighted that the project has moved forward.
"However, there is still much work to be done."
Mayor of Torbay Nick Bye said: "We need to keep the pressure up and show how life changing this could be for all of us."
Both authorities will make a final funding bid early in 2012 for construction to start in the summer, with completion in 2015.