Fears for Plymouth Argyle 'promised' cash lifeline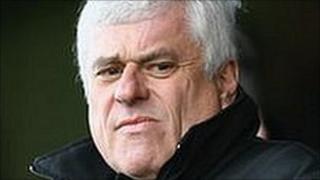 The man trying to secure Plymouth Argyle Football Club's future fears an expected £2m cash lifeline may not arrive.
Peter Ridsdale, the former Leeds United and Cardiff City chairman was brought in as an advisor to help reduce debts.
The League One club has already cleared a £700,000 tax bill to HM Revenue and Customs through the sale of players.
But Mr Risdale said a phone call with directors Yasuaki Kagami and George Synan, left him with "no confidence".
The £2m investment from Mr Kagami and Mr Synan, who are based in Japan and own 38% of the shares in Plymouth Argyle, was a "critical part in the survival plan", Mr Risdale said.
Time limit
He told BBC News he was given no evidence that Mr Kagami and Mr Synan would be in Plymouth on Monday, as reported in a local newspaper earlier in the week.
Mr Risdale said he had "effectively given up" on the £2m lifeline they had promised would arrive more than a week ago.
Without the extra investment, Argyle's money would run out when Mr Risdale is due to leave the club next Tuesday, he added.
Plymouth City Council has refused to buy Argyle's Home Park ground and lease it back to the club.
Mr Kagami and Mr Synan have been unavailable to comment.