Plans to privatise UK search and rescue suspended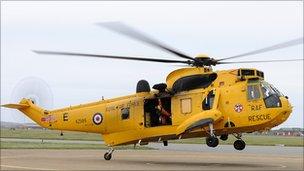 Campaigners have welcomed the government's decision to suspend plans to privatise the search and rescue service (SAR) around the UK.
The plans included ending round-the-clock rescue cover at Chivenor in north Devon as well as at a number of other bases.
The privatisation process was halted after "irregularities" emerged in the bidding process.
There were fears that reducing cover at Chivenor could put lives at risk.
Campaigner Bob Thompson, who is opposed to halving cover at Chivenor to 12 hours a day, said: "We are absolutely delighted with the news.
"We think this will give us an opportunity to put our case for continuing 24-hour cover at Chivenor.
"They were crackpot proposals in terms of Search and Rescue."
The privatisation plans also included RNAS Culdrose in Cornwall.
Andrew George, the Liberal Democrat MP for St Ives, said: "Although, personally, I was opposed to privatisation in the first place, all those with an interest in this service will want certainty about the future of the service.
"Everything is up in the air for the time being. We need reassurance that the investment is there to provide a secure future for search and rescue."
The government had planned to hand the running of the entire UK SAR service to its preferred bidder, a private consortium called Soteria.
The group was expected to provide new aircraft to replace the Sea King helicopters over a three-year period, in a contract worth £6bn over 25 years.
But now the Department for Transport and Ministry of Defence (MoD) has said Soteria will not get the contract.
The decision came after Soteria admitted it had access to commercially sensitive information.
MoD Police are investigating how the information came to be in the group's possession.
The government is now considering the options to meet future requirements for search and rescue helicopters in the UK.
Armed Forces Minister Nick Harvey, whose north Devon constituency Chivenor is in, said: "We are now looking at an interim period of some four or five years until a permanent solution comes into place.
He said that the ageing Sea King helicopter fleet was not on its last legs and there was "absolutely no question of lives being put at risk" by the delay.
An MoD spokesman said the issue of round-the-clock cover will also be looked at again.
The SAR service in the UK is currently operated from four Maritime and Coastguard Agency (MCA) bases, six RAF ones and two Navy ones.
Related Internet Links
The BBC is not responsible for the content of external sites.