Plymouth incinerator ash could be sent to Buckfastleigh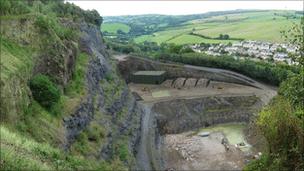 A company behind plans for a waste-to-energy incinerator in Plymouth wants to truck thousands of tonnes of ash about 18 miles to Buckfastleigh.
MVV Umvelt wants to build a plant at Whitecleaves Quarry to turn the ash into material for road-building and other construction.
About 56,000 tonnes of ash a year would be taken to the plant which would employ six to eight people, said MVV.
The £140m contract for the incinerator was awarded to MVV in January.
The company is due to submit a planning application for a waste-to-energy incinerator at North Yard in Devonport Naval Base in the spring.
The site would generate electricity and heat from household waste.
MVV said there would be no problems with dust because the ash would be wetted before being transported.
Managing director Paul Carey said: "The ash left over after residual waste which has been burned is a valuable resource and this recycling plant would ensure that we extract maximum value from south-west Devon's waste after treating it.
"We believe Whitecleaves Quarry is an appropriate location for this plant."
Proposals for the plant will be on show at St Luke's Church Hall, Buckfastleigh on 18 February between 1300 and 1900 GMT when MVV will be answering questions.
Related Internet Links
The BBC is not responsible for the content of external sites.