Devon abuse charity's 'death' warning over budget cuts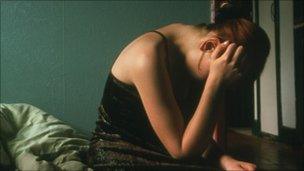 A charity which helps domestic abuse victims has said women and children could die as a result of funding cuts.
Devon County Council has proposed a 42% reduction to its annual £1.2m budget, after it initially considered scrapping it entirely.
It said no service could expect to be immune from cuts.
But Sue Wallace from North Devon Women's Aid said it was a "deep and harsh" cut that would leave more than 1,000 women and children unsupported.
The council's £1.2m funding for Adva (Against Domestic Violence) Devon currently supports three separate charities - North Devon Women's Aid, the Domestic Violence and Abuse Service and Stop Abuse For Everyone (Safe).
Ms Wallace, who is the chief executive of North Devon Women's Aid, said without the support of these charitable groups, statutory bodies such as the police and health service would be put under even more pressure, with potentially serious consequences.
"There are no other services for these vulnerable people - children and women will die," Ms Wallace said.
While she accepted the council had to make cuts, Ms Wallace said she had been preparing for a funding reduction of about 25%. The proposed 42% cut was, she said, "disproportionate".
"They have themselves had a 27% cut to their own funding over three years and we just don't understand why that equated to a 42% cut to the funding for our services," she said.
In a statement from the leader of the Conservative-led council, John Hart said: "Devon County Council faces making cuts of £54.6m in the coming financial year and I am afraid no-one is immune from reductions in their spending.
"We have worked very hard to achieve what I believe is an acceptable and workable compromise."
Mr Hart has previously claimed the council had "an unfair burden" with it providing £1.2m, while Devon and Cornwall Police contributed £40,000 and the NHS £43,000.
However, Ms Wallace said if the council went ahead with its proposal to almost halve its budget, the reality was lives would be put at risk.
"Out of 1,400 unsupported people, there will be many who are absolutely at high risk - and high risk means at risk of serious injury or death."
The council is due to discuss the budget proposals later.
Related Internet Links
The BBC is not responsible for the content of external sites.