'Last chance' public appeal to save Castle Drogo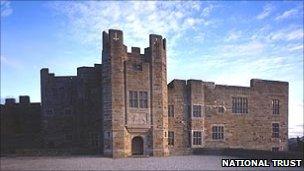 People across the country have been asked to help save the last castle built in England.
Castle Drogo, which was built near Exeter in Devon at the beginning of the 20th Century, was taken over by the National Trust in 1974.
It will cost £11m to protect and refurbish the granite building.
The Heritage Lottery Fund may provide £2.5m in the future, but the trust has launched a public appeal for £1.5m to begin crucial restoration work.
The castle, designed by Sir Edwin Lutyens for the retail tycoon Julius Drewe, took more than 20 years to build.
It was completed in 1931, but within a few years the castle began to suffer from leaks and damp problems, made worse by its exposed position near Dartmoor.
The castle's 13,000 window panes need to be replaced and the National Trust has been looking at several ways to help raise funds.
In November last year, Castle Drogo received a "first-round pass" for Heritage Lottery money, which means the refurbishment project met its criteria for funding, but the trust must submit fully-developed proposals to compete for a firm award.
The trust said if extensive conservation was not undertaken soon, the castle could become inaccessible and a national treasure lost.
Plans to preserve the castle include the renovation of the massive flat roof structure to make it permanently watertight.
To install a new roof system, 2,355 granite blocks weighing 680 tonnes will have to be removed and then returned.
Some 900 windows containing more than 13,000 panes will be refurbished to stop them leaking and more than 60,000m (200,000ft) of pointing will need to be replaced.
The National Trust said it wanted to involve local people in the restoration project, with opportunities for learning new skills such as masonry, joinery and furniture-making.
It will take about five years to complete the conservation.
Apart from the Heritage Lottery Fund, the National Trust has made approaches to various funding bodies.
But it said crucial stages of the restoration would could get under way if there was a successful response to its public appeal.
Trust spokesman Adrian Colston said: "The castle is regarded as a masterpiece of 20th Century architecture but its future is now hanging in the balance.
"This is our last chance for Castle Drogo and we urge our supporters across the country to help us raise the money we need to ensure its survival."
Related Internet Links
The BBC is not responsible for the content of external sites.