Councillors reject budget cut proposals for Torbay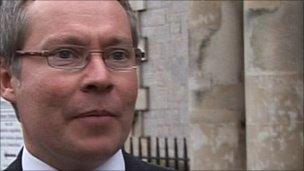 Plans to save more than £7m by switching off street lights, CCTV and cutting children's services in Torbay have been rejected.
Councillors from the majority Conservative party and the opposition Liberal Democrat party voted to object to the reductions on Wednesday night.
It means Torbay Council's elected Mayor, Independent Nick Bye, will have to look again at his proposals.
However, a £320,000 cut in transport subsidies was approved.
The council is facing a 28% reduction in its government grant over the next four years.
Mr Bye has previously warned that frontline services can not be completely protected.
"Councillors are not prepared to make those difficult decisions," he told BBC News.
"They're saying to me I have to think again, but I have not got a magic chequebook."
But Steve Darling, the leader of the council's Lib Dems, said he was pleased the vote provided an opportunity to look again at the proposals, which he believed needed a more "staged approach".
"The big bang approach isn't the way to go if you want to bring the people of Torbay with you - there are better ways to skin a cat," he said.
The Mayor will look at the proposals with Cabinet next week, before putting the budget to a final council vote on 24 February.
"I've got to know what councillors priorities are... because I've got to balance the book," Mr Bye said.
Related Internet Links
The BBC is not responsible for the content of external sites.