Skull surgery saved Devon attack victim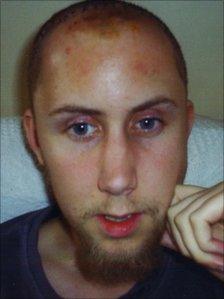 A drunken teenager who launched a "murderous" unprovoked attack on a man in a Devon street for looking at him has been jailed for five years.
Steven Cloak, 26, from Bideford, had to have a quarter of his skull removed as surgeons tried to save his life.
His attacker, Jack Hobbs, who was 16, was convicted at Exeter Crown Court of inflicting grievous bodily harm.
Judge Philip Wassall said photos of Mr Cloak's injuries were too prejudicial to show the jury during Hobbs' trial.
Det Con Martin Pearse said: "This was a completely unprovoked and mindless act of violence which could easily and very nearly resulted in a death."
After the case, Mr Cloak's mother Margaret said her son was "doing well" but would "never completely recover".
Mr Cloak has now had a titanium plate inserted where the skull had to be removed.
The court heard Hobbs, who is now 17, had been drinking sambuca and beer when he attacked his victim claiming Mr Cloak had given him "an intimidating look".
Mr Cloak was punched to the ground and then repeatedly kicked in the head.
Hobbs, from Bideford, put his blood-stained trainers and clothes in the washing machine but forensic science experts still found traces of blood on his shoes.
David Evans, prosecuting, said: "The sad truth is this 16-year-old was fired up in drink and playing the hardman."
Judge Wassall told Hobbs: "It was a matter of luck that this man did not die, you could be here being sentenced for murder.
"Alcohol is no excuse. It was a chilling thing to listen to. It was a murderous attack on him."
Mrs Cloak said: "Things have been difficult but I think how lucky we are, it could have been such a different scenario."
She added: "It was an absolutely unprovoked attack and people can't be allowed to do it."
Related Internet Links
The BBC is not responsible for the content of external sites.