Derriford Hospital left swab in Plymouth operation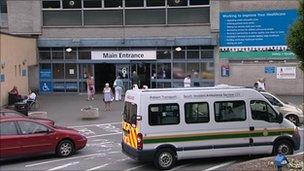 Derriford Hospital in Plymouth is investigating after a patient was left with a swab inside her after an operation.
Nicola James, 45, had a gall bladder operation in November 2010 and became seriously ill.
It emerged later that a swab had been left in her abdomen.
The hospital has apologised for the incident which is one of four over the last 12 months and said it was working to prevent a repeat.
Plymouth mother-of-two Ms James had the first of two operations on 3 November, but afterwards her abdomen became distended and her hands and arms were swollen.
She had another operation and 11 days later a ward sister told her parents a swab had been left inside her abdomen.
Her mother Diane said: "They must have taken it out in the second operation, but no-one told us then.
"How can anyone miss a swab time and time again?"
She said her daughter was recovering slowly and trying to regain weight after losing more than a stone.
"It's been horrendous. This is people's lives we are talking about."
Plymouth Hospitals NHS Trust said it was holding a full investigation.
"We are extremely sorry for what happened to Ms James and have apologised to her and her family.
"The four different events have involved different procedures with different staff theatre teams each time.
"All the staff involved have been extremely upset by what happened.
"We are doing everything in our power to put in place better support, training and education to try to prevent a recurrence."
Related Internet Links
The BBC is not responsible for the content of external sites.