High winds prevent operation to lift new M5 bridge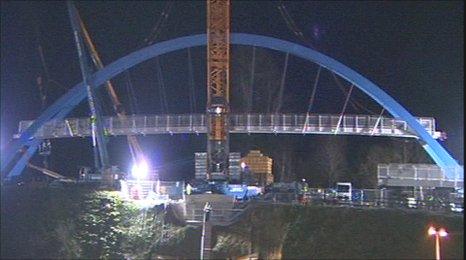 High winds prevented engineers from winching a new bridge into place over the M5 near Exeter overnight.
The Redhayes pedestrian and cycle bridge will span the M5, north of junction 29.
The main part of the bridge, which is 100m (328ft) long and weighs more than 200 tonnes, was due to be lifted by three cranes.
But the operation had to be called off when engineers decided winds were too strong to move the span safely.
Engineers were not due to begin Sunday's operation until the evening, but the Highways Agency said an attempt may be made to start the work at 1400 GMT.
Flights from Exeter Airport were due to be halted for the duration of the evening work.
The diversions mean traffic joining the M5 southbound will be routed from Junction 28 to take the B3181 from Cullompton to Exeter.
This will follow Pinhoe Road and Moor Lane through the Sowton industrial estate to join the M5 at Junction 30.
Drivers wanting to join the M5 northbound at Junction 30 will be advised to follow the reverse route.
The bridge is the first on the UK road network to be designed and constructed to new Eurocode design standards.
Related Internet Links
The BBC is not responsible for the content of external sites.