Torridge council's gypsy site plans shelved again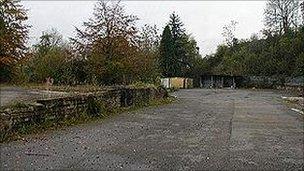 Plans for a gypsy and travellers site in north Devon have been shelved for a second time.
Torridge District Council originally scrapped the proposals for a site at Derriton, near Holsworthy, last year.
Earlier this month the community and resources committee said it was important to have a site and the plans were revisited.
However councillors rejected the plans on Monday night, voting instead for further investigations.
James Morrish, leader of the Conservative-majority council, told BBC News there had been a long debate about the need for a site for the gypsy and travelling community.
"It was decided to have an overview of all potential sites in and around Torridge before we make a final decision," he said.
"We have to make a very serious decision here spending taxpayers' money - we need to spend it responsibly and properly after exploring every single avenue."
If the four-pitch site is not built, the council will have to repay £840,000 it received from the Labour government last year.
But Sally Woodbury, a Romany Gypsy and spokeswoman for Devon, said councillors had the same duty of care for gypsies and travellers as for the settled community.
She said councillors should be "ashamed of themselves" for abandoning the plans again.
"This council is not just at the start of this - they've had the money, they've got the land and they've got the planning permission," she said.
"Most councils around England would love to get to that stage."
Related Internet Links
The BBC is not responsible for the content of external sites.