Hospital suction errors revealed after Plymouth death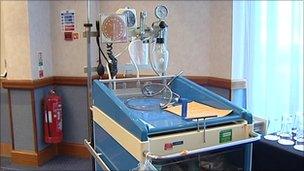 Faulty hospital suction equipment is believed to have contributed to the deaths of seven people in a five-year period.
The National Patient Safety Agency (NPSA) said there were 100 serious problems between 2005 and 2009, including the seven deaths.
It has notified hospital trusts to warn them of the potential risks.
The matter was brought to light following the inquest into the death of Plymouth man Cecil Barnes.
Mr Barnes, 79, was violently sick, inhaled vomit and collapsed six days after a bladder operation at Plymouth's Derriford Hospital in July 2008.
Three devices used to try to clear his airways were either faulty or staff had not been trained to use them properly and Mr Barnes died.
Plymouth Hospitals Trust has since replaced all its resuscitation equipment and proper training has been given to staff.
After recording an open verdict into Mr Barnes' death, Plymouth coroner Ian Arrow wrote to the Department of Health (DoH) to see if the possible failings in equipment had been repeated elsewhere.
The DoH referred the matter to the NPSA for investigation. It revealed details of 105 serious incidents involving airway suction equipment between January 2005 and December 2009.
The problems reported included equipment not being available or equipment being incorrectly set up, not clean, or batteries not being fully charged.
"The reports suggest that lack of training and poor checking procedures were underlying causes for these incidents," the agency said.
The solicitor who represented Mr Barnes' family said it was "disturbing" that his tragic death was not the only case of its kind.
Laurence Vick, of Michelmores, said the family had welcomed the coroner's proactive approach by drawing the inquest's findings to the attention of the Department of Health.
"On behalf of the family, we know they will be desperately keen to see steps put in place to ensure that patient care is not going to be compromised in the future as it was for Mr Barnes," Mr Vick said.
Dr Suzette Woodward, director of patient safety at the NPSA, said incident reports were submitted to the National Reporting and Learning System (NRLS) database.
"Reports to the NRLS are analysed with expert clinical input to identify common hazards," she said.
"We have recently disseminated data across the NHS relating to airway suction equipment, raising the profile of this risk."
The NPSA has recommended hospital staff should be given regular training on the use of suction equipment.
It has also suggested standardising the devices hospitals use, saying that a hospital using a variety of devices can be "an additional contributing factor".
Related Internet Links
The BBC is not responsible for the content of external sites.