Increase in January's jobless claimant count for Devon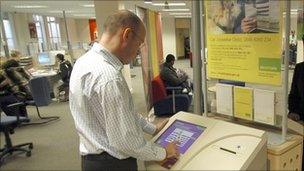 Figures show more people were out of work and claiming benefit in Devon in January.
According to the Office for National Statistics (ONS) the number of claimants last month rose to 9,659 - 781 more than in December.
The figures represent an unemployment rate of 2.1%, which is still well below the equivalent national rate of 3.7%.
Nationally, the number of people claiming Jobseeker's Allowance rose to 1.5 million.
On the broader measure of unemployment, the ONS statistics for the UK went up by 44,000 to almost 2.5 million for the three-month period to the end of December.
Related Internet Links
The BBC is not responsible for the content of external sites.