Devon farmer and photographer recall foot-and-mouth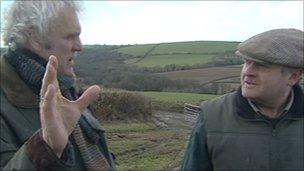 The date 6 April 2001 is burned into the memory of photographer Chris Chapman and farmer Philip Lake.
Mr Chapman found himself inside the cordon on the day the Ministry of Agriculture, Fisheries and Food (MAFF) came to slaughter Mr Lake's animals as part of the cull ordered to cope with foot-and-mouth disease.
At Mr Lake's request, and with the agreement of MAFF'S vet, Mr Chapman donned white overalls, wrapped his camera in plastic, and photographed the cull.
His images were later in a book called Silence at Ramscliffe.
Ten years later, Mr Chapman has returned to Mr Lake's farm.
"It's extraordinary to be here again," the photographer said.
"I'm so pleased to see calves here again, because, of course, that's where they were slaughtered.
"But of course, you didn't see all of that did you Philip? You couldn't watch it."
The farmer nodded, then replied: "I didn't want to see it, the cows being killed.
"I just helped round them up and went back inside. I couldn't do it."
He is keeping a brave face, but the memories are clearly painful.
"I can still remember the smell of the sedative," Mr Lake said. "All these years on, I don't know why, it's just there."
The two look around the yard, and come to the calf pen.
"This is where I saw an extraordinary thing," said Mr Chapman.
"The vet put his fingers out for them to suckle… and a vet is charged with saving life, but in his other hand was the sedative.
"He had the syringe ready to inject them. I took a photo of it."
The two walk to the silage clamp, which was where the herd was killed and where Mr Chapman took some of the most graphic pictures.
"There was a young lad, and it was his first day on slaughter. He didn't quite know… he was quite worried about it.
"And he stood here like a sentry. And then the slaughtermen came in, and it was "boof boof" with the captive gun."
Mr Lake did not see this; as he points out to Mr Chapman, he found out the details by looking at the photographs. It was too much to take on at the time.
Mr Chapman had climbed up into the barn and looked down, taking a photo of what he describes as a "sea of what had been an hour ago a beautiful dairy herd, lying there stone dead."
The following day Mr Lake managed to go outside and take in the destruction. "It was horrible - it made me feel sick," he said.
Mr Chapman recalled how he had stayed to see the last calf being killed. After that, he could not carry on.
He felt he had seen too much already and left the farm before the animals were burned on the pyre.
The carcasses were set alight on Easter Sunday. "We actually burned three farms' [worth] here," said Mr Lake.
"I can remember the three big pyres [across the field], they put the kerosene on, then someone came along with the torch and, 'whoomph', the smoke filled the valley."
When Mr Chapman came back to the farm two days later, the pyres were still smouldering. "I walked up and down, and then I saw this one fetlock and hoof.
"That picture summed it all up for me. What a waste it all was."
A decade has passed, but the outbreak changed the lives of both men.
On a practical point, it enabled Mr Lake to move out of dairy to beef and sheep.
"It was a blessing in disguise, really," he said while fighting back a momentary tear with another determined nod.
But he admitted that he still sees those images in his mind's eye when working on the farm.
And what about Mr Chapman?
"You're not going to make me cry," he said, matching the farmer's nod for determination, "but yes, it did change my life.
"Until then I'd photographed the backdrop to country life. But this made me examine what we were being told, and actually what we were being told and the truth on the ground were two totally different stories.
"It galvanized me, and made me quite angry. It made be more political with my camera."