Positive step for Plymouth meningitis boy Archie Barton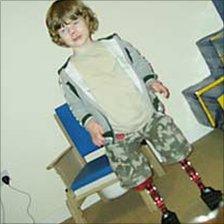 It is a developmental milestone every parent anticipates and cherishes.
But for the parents of five-year-old Archie Barton - who lost both legs to meningitis in 2007 - seeing him take his first steps on his prosthetic limbs at Christmas was a bittersweet moment.
They had already witnessed that particular landmark because Archie had taken his first steps as a toddler in Australia - not long before the illness struck.
The Plymouth family had been warned by doctors it was something he may never be able to do again.
So to see him walk was "just incredible" his mother Nicky told BBC Devon.
"Now he's found his feet we just don't seem able to stop him.
"He started with them at Christmas and we suddenly noticed he wasn't holding on to the furniture anymore, it was wonderful."
Archie - who also lost his fingertips and most of his nose - is clearly pleased with his red prosthetic legs, his favourite colour.
He is thrilled to be mastering the £12,500 pair as opposed to the "stubbies" - the shorter legs he had been using before.
And his mother is already looking forward to when he can get a pair of blades of the type sported by paralympian Oscar Pistorius.
"Then he can run," she said.
Archie began primary school in September - moving on from the city's Woodlands School, which provides specialist education for children with sensory and physical difficulties.
"Woodlands is a wonderful school, they prepared him to be able to go into mainstream education and I would eventually like to work in the nursery there, it's a very special place," his mother said.
And although Archie's life is punctuated by hospital visits and physio and other specialist appointments he has a fairly routine school day.
A dedicated teaching assistant is on hand to help him and Nicky has no doubts that a mainstream school is the right place for him.
"He's made lots of friends, he was even invited to a party at the cinema the other day and although he has a visual impairment, he just loved it."
Ever since he became ill in June 2007 fundraising for Archie's Story, the charity the family set up in the wake of his illness, occupies most of Mrs Barton's free time.
The city's half marathon is on the horizon and up to 40 people will be running to raise money for Archie.
And the charity's ball at Plymouth Albion is now an annual fixture too.
Mrs Barton's current mission is to find a patron.
"Most children who have had meningitis who have a charity seem to have a patron - it seems to be the thing you need to have, to help raise awareness.
"I think it would be a real inspiration for Archie too.
"I just want him to find his talent, like any child, find what he's good at - he loves music and swimming - I just want him to keep striving."
With more operations looming how do Mrs Barton and the rest of the family keep positive about the future?
"Archie," is her simple reply.
"Archie makes us cope because of the way he deals with it all and the progress he is making.
"He is feeding himself now, he's at a mainstream school and now the walking - he just keeps blowing us away."
Related Internet Links
The BBC is not responsible for the content of external sites.