Plymouth hospital threatened with safety prosecution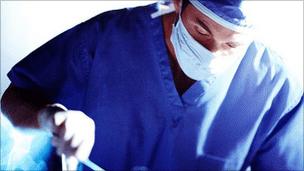 The Plymouth NHS Hospitals Trust must improve safety - including preventing swabs being left in patients - or risk prosecution, a watchdog has said.
The Care Quality Commission (CQC) issued the warning after inspectors found safety checks were not fully completed by some surgical teams.
In four incidents, swabs were left in patients at Derriford Hospital within a year.
The trust said it was working hard "to put right deficiencies".
The CQC said it was demanding immediate improvements after finding that important check lists recommended by the World Health Organisation and the National Patient Safety Agency were not being fully completed by surgical teams across some operating theatres.
It said it was critical such key checks were completed "without exception as failure to do so may result in increased risk to patient safety".
The Derriford swab incidents did not result in serious problems for the patients involved.
Such incidents are described in medical terms as a "never event", ie: it should not happen.
The trust's medical director Dr Alex Mayor said the trust was aware of the issues before the CQC inspection but admitted they were "very significant findings".
Dr Mayor added that the trust carried out 50,000 procedures a year, and that 'never events' equate to one in 10,000, but that "one in 10,000 is one too many".
He said: "I can assure patients and the public that we have put into place actions that will significantly reduce these never events."
South-west CQC regional director Ian Biggs said check lists and other practices were needed to prevent similar incidents happening again.
He said: "Good practice includes whole surgical teams being prepared for each particular case, and ensuring swabs are counted before and after surgery to assure that they are accounted for.
"The important thing is that staff and practices minimise risk so people can have confidence in the hospital."
The commission is still to produce its full report into the inspection.
Related Internet Links
The BBC is not responsible for the content of external sites.