Devon councils face rise in potholes costs after freeze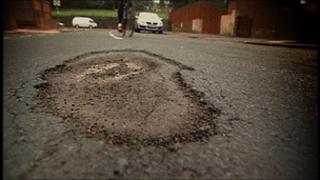 Devon councils have told BBC News they face huge rises in the cost of fixing potholes after two severe winters.
Devon is expecting to spend about £7m in 2010/11 filling potholes, more than three times what it spent before the harsh winters.
Plymouth City Council is likely to spend about £230,000 above the budget of £470,000 for fixing potholes in 2010/11.
Torbay Council says it needs £30m to mend its roads.
The sudden plunge in temperatures over the last two winters and the subsequent thaws have caused many potholes in Devon roads.
Last week, the government said it would be putting aside £100m for councils to bid for if they felt they had been badly hit by potholes.
But David Weeks, of the Asphalt Industry Alliance in Devon, told the BBC's Inside Out South West that roads needed a long-term plan of preventative maintenance.
He said: "Money spent in reactive work is like throwing good money after bad.
"The root of the problem is that you are not getting the right funding in the right place."
Torbay Council has a backlog of 5,000 applications to fill potholes in roads.
Street scene services manager Patrick Carney said: "A pothole costs £100 to fix.
"Preventative maintenance can be £5 per square metre, so it's 20 times cheaper but it would still cost £30m to get us to the point where we would really like to be."
Plymouth City Council said it intended to "target areas most in need" following "a marked deterioration in our network" over the last two years.
Devon County Council predicted that spending on fixing potholes in 2010/11 would be £4.6m but it now expects to spend about £7m.
A spokesman said the budget of £7.25m for 2011/2012 "should be sufficient".
A Department for Transport spokesperson said: "It is obviously important that local councils manage their road maintenance throughout the year and in view of the last few winters we would expect winter maintenance to be a priority for them.
"We are investing £3bn in maintenance over the next four years, as well as spending £6m to help local authorities make their road maintenance programmes as efficient and effective as possible."