Man entangled in live power cable suffers serious burns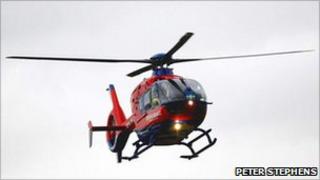 A Devon man is in a specialist burns unit in Bristol after becoming entangled in a live power cable.
The accident happened on Saturday when he was out walking at Dunstone Cross, near Yealmpton.
Devon and Cornwall Police said the 56-year-old from Modbury had apparently become entangled in a broken 11,000-volt cable.
He was flown to hospital in Plymouth by the Devon Air Ambulance, but later transferred to Frenchay Hospital.
The man, who has not been identified, has undergone surgery and is in a serious but stable condition.
Lightning strike
Western Power Distribution said the 11,000-volt cable had been isolated shortly after the accident.
The company had earlier received reports that the pole carrying the power cable had been hit by lightning.
The incident was reported to the Health and Safety Executive and a spokeswoman from Western Power told BBC News an investigation had begun.
Three years ago Western Power was fined £200,000 following the death of Professor Roland Levinsky.
The vice-chancellor of the University of Plymouth was electrocuted by a power cable on New Year's Day in 2007 and the power company admitted failing to ensure the safety of a person not in its employment, under the Health and Safety at Work Act 1974.