Dartmoor Zoo slaughter man teaches equine dissection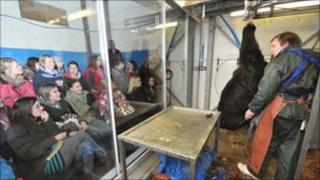 A Devon zoo's meat processing facility is being used to teach veterinary nursing students about equine anatomy.
Dartmoor Zoological Park at Sparkwell, near Plymouth, is one of the first in the UK with an in-house butchering facility.
Teaching and practical dissection demonstrations are carried out by the zoo's slaughter man and a vet.
The zoo's meat processing and student lecture areas have been separated by a glass wall.
Dartmoor's three tigers eat up to 15kg of meat a day - equivalent to a large adult pony per tiger per week - and fresh meat is also given to the lions, bears, jaguars, lynx, cheetahs and wolves.
The butchering is carried out by slaughter man Andy Goatman who puts the animals down humanely off-site.
It was his idea to provide the lecture facility.
"Everyone has to learn, and normally these students only get to see small parts of the animal they are studying - here they get the chance to see everything in context," he said.
Mr Goatman said with health and safety regulations restricting practical work for biology lessons, the zoo had also been contacted by some secondary schools.
The teaching demonstrations have attracted students from Duchy College and Bicton College.
With the Royal College of Veterinary Surgeons (RCVS) including equine anatomy as part of its diploma in veterinary nursing, Carol Knight, curriculum manager at Duchy College, said the zoo's practical demonstration had been particularly useful for students.
"Attending the dissection session was a brilliant and fascinating opportunity for these students to see the actual workings of a horse 'in the flesh', and of course our normal laboratories at the college are unable to provide the students with the space for such large practical demonstrations," Ms Knight said.
The glass screen separating the meat processing facility from the lecture space provides the students with an unrestricted view and protects them for health and safety reasons.
Enthusiasm 'encouraging'
Duchy College student nurse Emma Field said: "I found being able to look at the brain and organs particularly useful, as well as being able to study the hind limb in such detail."
"I really enjoyed watching the inflation of the lungs, and also getting a chance to study the jaw and teeth at such close quarters," student Amy Jones said.
The zoo's operations manager, George Hyde, said the new facility was an important addition to the park's education programme.
"We've long recognised the educational value of this process for students of all ages," he said.
"Now that we've been able to make it publicly accessible, it's really encouraging seeing the enthusiasm that local educators are showing for the project."