Devon boy injured in France ski-lift accident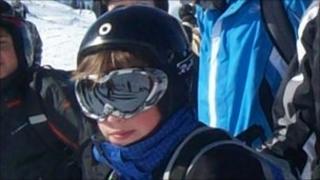 A boy from south Devon is in a coma following an accident during a school skiing trip in France.
Kieran Brooks, 14, was with a group from Torquay Boys' Grammar School in the resort of Chatel when the accident happened.
He was trying to get off a chairlift but his backpack, clothes or helmet became snagged and he was choked and unable to breathe.
His parents, from Newton Abbot, are at his bedside at a hospital in Annecy.
'Every parent's nightmare'
Local police are investigating and members of the school group have been interviewed as witnesses.
Head teacher Roy Pike said the incident appeared to be a "freak accident".
He said: "It seems that it restricted his airway when he couldn't quite dismount from the lift.
"By the time attendants got him down and the medics arrived, he'd been unconscious for some time and wasn't breathing."
He was airlifted to hospital, where medical staff tried unsuccessfully to bring him out of the coma.
The teenager was undergoing CT scans, Mr Pike said.
"It's every school and every parent's nightmare. Our hearts are going out for them."
He added: "His parents are hoping to bring him back home by the end of the week and airlift him over either to Bristol or Exeter, if it's possible.
"I think the hospitals are considering which, depending on which one best serves his need at the moment."