Okehampton frozen food factory staff call for job news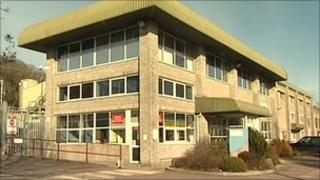 Business leaders and former workers from a factory in Devon are calling on its new owner to announce quickly if staff have a chance of re-employment.
The Polestar frozen-food factory at Okehampton went into administration this month with the loss of 232 jobs.
The factory has been sold to Devonshire Desserts, which has a skeleton staff working at the site to maintain it.
Devonshire Desserts has not been available for a comment about its staffing intentions.
'Very annoying'
Former factory staff may not hear for at least another fortnight if they have a chance of re-employment, the BBC has learnt.
Adrian Vernon and his wife both worked at the factory and lost their jobs when it shut.
Although Mr Vernon said he had been looking for other work, he added he hoped that former staff would be taken on again but that the wait for news was "very annoying".
He said: "We feel like we're just hanging on a wire, just waiting for something to happen."
Ian Bailey of the Okehampton Chamber of Trade said he hoped the company would reveal its plans "sooner rather than later".
BBC South West Correspondent Simon Hall said: "The new owner has made no comment on the future of the factory, but the BBC has learnt that it is carrying out a fundamental review of business in a bid to make it profitable.
"It's likely to be about two more weeks before there's any announcement of how many of the staff will be re-employed."
The job-loss announcement on 1 February was the second major blow to the Devon town, coming just days after Robert Wiseman Dairies announced it was closing its factory, putting 69 employees out of work.
Polestar's owner, Privet Capital, blamed cashflow problems for its decision to close the factory.