Paignton retailers' Business Improvement District vote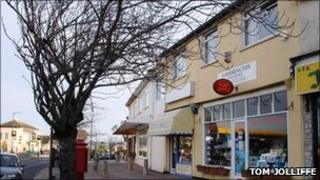 Traders in a Devon resort have voted in favour of it having Business Improvement District status (BIDs) to help boost trade.
BIDs involve asking businesses to pay an extra levy which is used to improve and promote their area.
More than 250 businesses in Paignton voted on whether or not the town should have the status.
Businesses will now have to pay a statutory charge for five years.
'Clubbing together'
Lucy Ball, chief executive of Torbay Town Centres, said: "We are very grateful to all those who voted for this scheme.
"We look forward to working together to really put Paignton back on the map where is belongs as a thriving and much loved seaside town."
The new charge will be 1.5% of the rateable value of each business.
Businesses will then be able to decide how the extra money is used to encourage shoppers to spend their cash locally.
The five-year levy in Paignton will raise about £150,000. Some of the priorities identified by local businesses include increased security, environmental improvements, parking charges and better co-ordinated marketing.
Decisions on how the money is spent will be made by a committee of Paignton business-owners.
Matthew Clarke, from the Torbay Bookshop, told BBC News he had voted in favour of BIDs.
"I thing it's very important for the community of businesses to club together to make our town better," he said.
"It's all very easy to say it's the council's job... but when it's in our hands we should be able to do what we want to do to increase footfall.
"It's not just about money either - we would have a team of people who could talk to the council about issues such as parking."
Paignton's "next door neighbour", Torquay, adopted BIDs in 2010.
Brenda Hooper, from South Devon Chamber of Commerce, said in less than a year, businesses had reported more activity in the town, the summer flowers were better and there had been more events.
"We're very much in support of BIDs," she added.