Jobs uncertainty at historic Dartmouth boatyard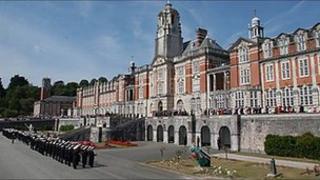 Workers at the last commercial boatyard in the historic Devon town of Dartmouth are facing uncertainty over their jobs.
BAE Systems, which runs the Sandquay boatyard, said the Ministry of Defence (MOD) would not be renewing its lease beyond June this year.
The yard, which employs about 50 people, maintains small boats from the nearby Britannia Royal Naval College.
An MOD spokesman said its small boat maintenance would be "integrated" because it was more cost-effective.
BAE Systems, which currently holds the contract to maintain the MOD's small boats at other sites, said: "We are working with the Britannia Royal Naval College... to identify and agree how we will continue to deliver boat maintenance services going forward."
A spokeswoman added that the issue of workers' jobs formed part of that discussion.
Fleet integration
Dartmouth's mayor Richard Rendle, who worked at the Sandquay yard for more than 30 years and ran it until three years ago, said: "There are skilled men in danger of losing their jobs.
"These men have wives and children.
"They won't have much of a future if [the yard] does go. Skilled jobs are hard to come by."
An MOD spokesman said plans to integrate support for its small boat fleet were still being developed but that "the work may be moved elsewhere".
He added that, for economic reasons, the work would need to take place in the South West.
Regarding the future of the site, he said: "The MOD owns the Sandquay site and there are no plans to dispose of it on current plans."
Mr Rendle said the boatyard, on the banks of the River Dart, first opened in 1902.
Last year the government announced that Britannia Royal Naval College, which opened in 1905, would not be closed as part of the Strategic Defence Review as had been feared.