Fishing boat CCTV trial to reduce stock discards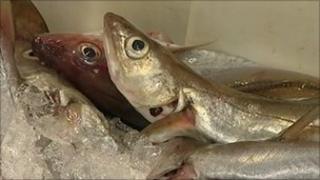 Fishermen in Devon are to trial closed circuit television on some boats as part of efforts to reduce discarded fish.
The initial plan is for five boats from Brixham and Plymouth to have cameras.
The CCTV trial comes as the European Commission holds talks aimed at bringing an end to the process of throwing dead fish back into the sea.
Currently, EU boats in the North Sea have to throw away up to half of what they catch to stay within their quotas.
'No monkfish here'
Local fishermen said discarding freshly-caught fish was not something they enjoyed doing, but because of the quotas they had no choice.
"It's a terrible thing to have to chuck your fish over the side," one Brixham fisherman told BBC News.
"But you can't put signs on your nets or your dredgers saying 'no soles or no monkfish here'.
"You just have to chuck them back and when you chuck them back they're dead."
Fisheries Commissioner Maria Damanaki has proposed the regulation of fleets through limits on fishing time and greater use of measures such as CCTV.
Jim Portus, from the South Western Fish Producers Organisation said: "The whole purpose of CCTV is to monitor the behaviour of the crew and the handling of the fish to see if the technology works.
"That's the crucial question. If it doesn't work, the trial won't be extended into future years."
Fishermen who take part in the trials in Devon will have an increase in their quota over the short term, although in the longer term greater emphasis will be given to local schemes to manage fish stocks in a better way.