Scarlett mother Fiona MacKeown may lose her Devon home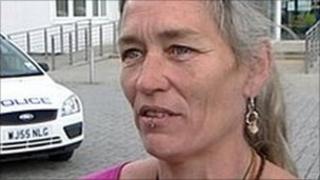 The mother of Devon teenager, Scarlett Keeling, who was killed in India, may have to sell her home to avoid going to prison for benefit fraud.
Fiona MacKeown, 44, of Meddon, Devon admitted falsely claiming £19,000 in income support last April.
She was given an eight-month suspended jail term and ordered to repay the debt.
Earlier, a judge at Exeter Crown Court gave her six months extra to pay after hearing her smallholding may be sold.
The court heard that Ms MacKeown had been due to repay the £14,650 she still owes last week but had failed to make the deadline.
Her barrister, David Sapiecha, said she still hoped to raise a loan using her smallholding in north Devon as security but was likely to be forced to sell it at auction.
He said: "It was hoped money could be repaid out of the proceeds of that land one way or another or by loans based on that land.
"There are problems with selling the land. There are tyres stored on it and there is a planning issue over a barn so her last final option is to sell at auction for less than its value."
Judge Graham Cottle has now given Ms MacKeown until August 27 to make the payment.
If she fails to do so she will be jailed for 12 months.
The Department of Work and Pensions was not represented at the hearing and the judge gave them leave to appeal against the extension of the time limit.
Fiona MacKeown's 15-year-old daughter Scarlett was raped and killed on a family holiday to Goa in 2008.
Two men are currently on trial in India accused of killing and assaulting her.
Ms MacKeown told the BBC previously she had been hoping to bury Scarlett in a garden on her land once her body is finally released by the Devon coroner.