University of Plymouth celebrating King James bible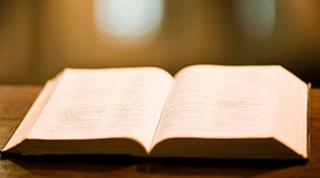 Winston Churchill described it as a "masterpiece" while George Bernard Shaw called it "magnificent".
And now the King James version of the bible - which is 400 years old in 2011 - is being celebrated thoughout March in Plymouth.
BBC Two religious presenter Diarmaid MacCulloch is one of five guest speakers helping mark the anniversary with Peninsula Arts at the University of Plymouth.
Eminent professors will consider a variety of topics about the Bible from banned scriptures to how the Bible became literature.
The book is an English translation by the Church of England of the Christian Bible, work began on it in 1604 and was completed in 1611.
Fifty four scholars, all members of the Church of England, were chosen to carry out the task and 47 of them completed the task.
They worked in six panels, each responsible for a different part of the Bible.
The King James Bible History Series has been organised in partnership with the University of Plymouth's History Department, the Multifaith Chaplaincy and the Plymouth Historical Association.
"The production of the Authorised King James Bible in 1611 was enormously important in British history and for the English language and there are currently many national celebrations of the 400th anniversary of the event," said Dr Elizabeth Tingle, subject leader in History at the university.
"We are delighted to welcome such distinguished scholars to speak on the subject, to encourage and inspire our staff, students and members of the public to learn more about history."
'Truly memorable'
The programme starts on 2 March 2011 with a talk about the earliest English Bible translation, led by University of Oxford Professor Anne Hudson.
On 10 March Professor Alec Ryrie from Durham University will be looking at Henry VIII's authorised version: Making the 1539 Great Bible.
Diarmaid MacCulloch continues the programme on 16 March with Taking the Temperature of the Church in 1611.
"Today we take it for granted that we have the Bible in our own language but it was a hard fought struggle at the time and a thrilling story," said Reverend David Evans, the univerity's ecumenical co-ordinating chaplain.
"I hope many people come and hear the story of how English people were able to hear the Christian scriptures in their own tongue and how this truly memorable translation came to be published."
For more details on the programme of events and ticket prices visit the Peninsula Arts website.