Exeter University plans £9,000 a year fees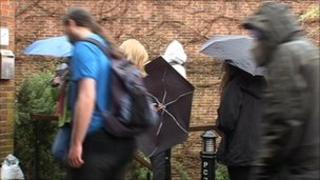 New students at Exeter University are facing fees of £9,000 a year in 2012.
Exeter University joins the universities of Oxford and Cambridge and Imperial College London which also plan to charge the maximum allowed.
The university said it would allow "fair access" and improve the student experience.
Exeter University Students' Guild said it would work with the university to make sure students "get the education they deserve for such a large fee".
MPs voted in 2010 to raise tuition fees to £6,000 from 2012, with institutions allowed to charge £9,000 in "exceptional circumstances".
Universities planning to charge more than £6,000 have to submit their proposals to the Office For Fair Access (OFFA), detailing how they plan to ensure poorer students do not miss out.
Exeter is the first outside the Russell Group, which represents elite universities including Oxford and Cambridge, to reveal it wants to charge the maximum fee allowed for all courses.
The university - which also has a campus in Falmouth, Cornwall - said it was developing a new package of fee waivers and bursaries to encourage more applications from less well off students.
David Allen, registrar and deputy chief executive, said: "This will better enable us to direct resources at widening participation, fair access and improving the student experience.
"It is important that students can come and study at Exeter whatever their family background."
Bertie Archer of the students' guild said: "There's not much surprise at the actual figure.
"It's been expected that the top institutions would go to £9,000."
The guild is pressing for smaller class sizes and more contact with lecturers and has been invited to join the university's budget scrutiny group to prioritise day-to-day spending for the students.
Mr Archer said: "The fees have got to be worth it, so the guild has been working hard to ensure that the university makes sure they get the education they deserve for such a large fee."
Tom O'Bryan, a second year student of international relations, said: "I think I speak for all students here in saying that the University of Exeter is one of the least socially diverse universities in the entire country.
"Charging £9,000 tuition fees is only going to widen the already gaping class-chasm that has unfortunately emerged here.
"To justify such a rise on the grounds that other leading universities are doing the same seems very feeble.
"Looking beyond Exeter, this will surely prove to be one of the most socially-divisive policy decisions in Britain for decades."