Ann Daniels and Phil Coates to test Arctic waters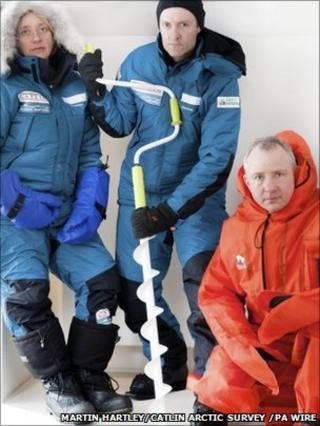 British explorers Ann Daniels and Phil Coates will be braving temperatures as low as -75C on a 60-day Arctic trek.
Ms Daniels, 46, from Devon, and Mr Coates, 44, from Cambridge, will fly to Ottawa in Canada on Wednesday.
On 10 March they and Australian Adrian McCallum and American Tyler Fish will travel to the Arctic.
They will be taking part in a scientific research programme by testing whether changes in sea temperatures affect ocean currents.
The Catlin Arctic Survey is looking into the impacts of climate and environmental change in the Arctic.
Team co-leader Ms Daniels said: "Each day we'll need to drill holes through the ice for our measurement devices... It's really hard work, but despite these challenges this is going to be an amazing experience."
Pen Hadow, Catlin Arctic Survey director, said: "It's very difficult getting used to working in the extreme cold. You're trying to do quite exacting science while wearing anything up to four layers of gloves.
"It takes time to learn how to avoid the worst of the cold without overheating in too much clothing. That's an Arctic challenge in itself."
A seasonal research station, the Ice Base, is also being established off the western coast of Ellef Ringnes Island, on the edge of the Arctic Ocean.