Plymouth girl's wish to meet Wizard of Oz star granted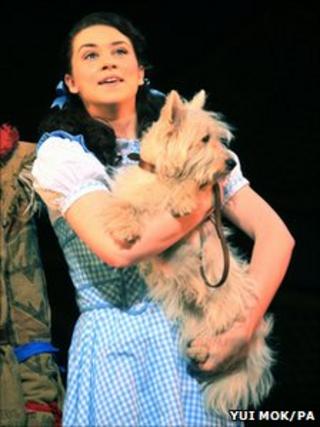 A girl from Devon with a rare genetic skin condition has attended the premiere of a West End show.
Lucy McCarthy-George, from Plymouth, suffers from Epidermolysis Bullosa (EB), a rare blistering condition.
The Starlight charity arranged for six-year-old Lucy, to see the Wizard of Oz and meet Danielle Hope, who plays the role of Dorothy.
"She was wonderful with Lucy and she brought Toto in, so we met the dog as well," said mother, Penny McCarthy.
EB is an inherited condition which is passed on genetically from parents to children.
The skin and internal body linings can blister at the slightest knock, leading to painful, open wounds and in its most severe form, EB can be fatal.
Lucy, who is an avid Wizard of Oz fan, dressed as Dorothy for the show at the London Palladium.
She had asked to meet the show's star after watching her on the BBC talent show Over the Rainbow.
"It was her wish to meet Danielle and she was absolutely amazing, doing photos with her," Ms McCarthy said.
"She said yesterday she was a bit nervous about the show but it's been brilliant, a really fabulous show. The effects are amazing."
The Starlight charity was set up in 1986 by British actress Emma Samms and her cousin Peter Samuelson to arrange "once-in-a-lifetime" wishes for children with life-threatening conditions.