Blogging surfer Lyndon Wake tells of 'amazing' waves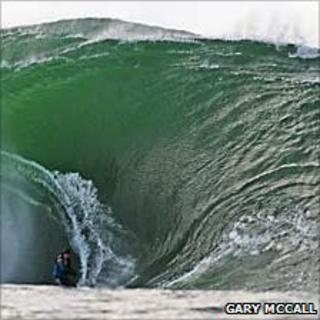 Well, well, well…. as an opening statement to this blog all I want to say is: Ireland is amazing!
After the events that went down at the Giant's Causeway up in Northern Ireland the lady I deal with for this blog, Jemima Laing, asked me: "How are you going to top this?".
As I read through the email from her I thought to myself: "How am I going to top surfing the biggest waves of my life at one of the most amazing locations in the world with two good friends?".
As the days continued and more swells battered the coast I thought: this is how…
Surf bigger, better waves with a crew of French guys from the Billabong team; get a wildcard entry into Ireland's, and my, first ever big wave competition.
Then get the biggest barrel of my life on my first wave of the competition and then after the event finished win an award for the best rescue pick up on the jet ski.
Yeah, I'd say somehow I managed to top what had happened the week before and this new event solidified it in being the best trip of my life.
At the moment I'm actually down in Newquay in Cornwall doing a lifeguard course with Era Adventures based in Polzeath.
So, for the first time in ages, I'm actually having some time away from surfing and getting a chance to think about how good it's been and what has happened.
I couldn't believe it when I got the entry into the big wave event.
There was such a variety of emotions running through me.
The biggest of them was nerves.
The surf was massive and I knew, now that I was in the event, there was no way I could pull out and sit on the shore.
I was in and that was that.
I teamed up with a guy called Francois Liets and he was driving me brilliantly on the jet ski and put me into some seriously big and good waves.
As it swapped over to being my turn to drive him, I felt confident I'd get him some good waves and we'd be in with a chance of doing well in the event.
Unfortunately luck wasn't on our side and it seemed every wave I put him on faded out and was no good, leaving me in the position of having to pick him up, as it always seemed a huge set was after the wave I'd put him on.
I was disappointed with how I'd driven and that he hadn't got any good waves, so we together decided to stay on after the event and try and get him into a few good ones.
It almost seemed the minute the comp was over the sets just seemed to pulse through and, sure enough, I put him into the bomb of the day - which then turned out to be the best wave of his life.
It's such a weird feeling when you're driving the ski because, although you're not actually surfing, you still get such a buzz off putting your buddy into these incredible waves.
I don't really know how many more good things can happen but I'm definitely not complaining.
And with any luck when I write to you again I'll be able to say I'm a beach lifeguard as well as a surfer.