Waste firm still wants Devon incinerator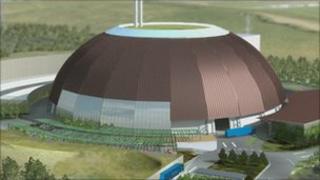 A waste firm still has plans to build an incinerator in south Devon but for industrial rather than domestic waste.
Viridor Waste Management recently failed to win a contract to process domestic waste from Plymouth and Devon at a site near Ivybridge.
It plans to take commercial waste from across the south west of England.
Viridor said it "remained confident" there was still a market for a plant. Local protesters said they would campaign against any incinerator.
Viridor had planned to build an incinerator at New England Quarry, near Plymouth.
However, in January, the South West Devon Waste Partnership chose MVV Umwelt as its preferred bidder to build an energy-from-waste plant in the Devonport area of Plymouth.
'No facilities'
A planning application for that plant will be submitted to the city council in the spring.
Viridor said its planning application for the New England site was still being considered by Devon County Council and had not changed since it was submitted in January 2010.
It said the county council was consulting on additional information it had requested.
In a recent letter to the council, Viridor said that there was around 450,000 tonnes of residual waste requiring treatment in Plymouth and Devon, but no facilities built or under construction to deal with it.
Dr Chris Westwood, of the pressure group Save Our South Hams, which protested against the New England Quarry plans, said people were "very concerned" about more waste being brought into the county.
He said: "I think people's feeling is 'why do we need another one here when there'll be a competent one in Plymouth?'"
Viridor Waste Management said New England was still a suitable location for such a facility, as identified in a waste local plan.
The company added: "We welcome public engagement in all our developments and continue to consult on our New England proposals."