Plymouth clubs fear closure of Drake's bowling green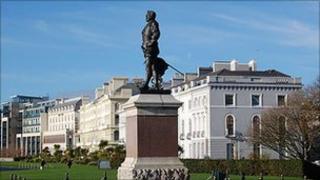 The historic green where Sir Francis Drake played bowls before defeating the Spanish Armada is under threat.
The lawn on Plymouth Hoe, Devon, is owned and operated by the city council and used by three bowling clubs.
The clubs fear they will not be able to afford to carry on if it is handed over to them under Big Society reforms.
Plymouth City Council said it was considering a proposal to transfer some playgrounds and bowling greens to local community ownership.
Drake, who was born in Tavistock, Devon, is said to have insisted on finishing his game of bowls, before setting off to defeat the Spanish Armada in In 1588.
The bowling club has been in almost continuous use for more than 500 years.
There was a break during the Plymouth Blitz in World War II, when it suffered bomb damage and the land was used for anti-aircraft batteries.
The lawn, overlooking Plymouth Sound and Drakes Island, is home to the City of Plymouth Bowls Club, Plymouth Hoe Ladies Club and the Visually Impaired Club.
They have a combined membership of about 100 and annual income of about £5,000 - considerably lower than the estimated maintenance costs of £20,000 a year.
Edgar Melluish, 68, chairman of City of Plymouth Bowls said the clubs would struggle to afford the running costs.
"I hope the council will think long and hard about this because of the association with Sir Francis Drake," he said.
Mr Melluish described it as "the most famous bowling green in the world", with visitors from Australia, New Zealand and the United States.
Grass memento
"We encourage as many as possible to have a roll up with a few woods so they can get their picture taken and say they have played on the green where Drake played," he said.
The Plymouth Hoe Ladies Club has played at the green for more than 100 years.
Secretary Jenny Fox, 72, said it was a worrying time.
"We all enjoy our bowls and the green is one of the main features of The Hoe," she said.
"It would be a great loss to Plymouth because of all the history.
"We even had one American couple who pulled out a couple of strands of grass from the side of the lawn and took them home in a little jar."
Last week, the Conservative-controlled council voted on proposals to cut £10.6m from its budget for 2011-2012.
It said the cost of maintaining the city's eight bowling greens was £160,000 a year.
"The proposal to transfer some of the council's playgrounds and bowling greens to local community ownership is set out in the budget service delivery plans and is being considered as part of the focus on Big Society and efficiency," a spokesman said.
"Other councils have successfully passed greens over to clubs who now lease and maintain the greens and we are keen to discuss this in a planned approach.
The suggestion has been criticised by shadow council leader, Labour councillor Tudor Evans, who said the three clubs would be "saddled with a huge problem".
'Worst advertisement'
Mr Evans said the maintenance and running costs were likely to be more than £20,000 because of the green's prestige location.
"It is all very well giving community groups opportunity to run things like this but they must also be given the resources or they are being set up to fail," he said.
"If it shut, it would be the worst possible advertisement for Plymouth.
"It is a way of councillors divesting themselves of responsibilities which they, and they alone, must shoulder."
Officials from the three the clubs are due to meet the council later this month.